On Rivet, you can think of a project as a space where you and your team can organize, access, and store information.
Most teams using Rivet today use projects for:
• Their "digital" office - where team members can converse, get to important information (like safety regulations, contacts, company policies, or payment policy), easily see a vacation calendar, and more.

• Job communication and coordination - where team members can easily get to important job site information, see basic task lists to stay on track, and share progress photos in project chats.
We highly recommend companies set up a project for their "digital" office after hearing how much it has helped other teams.
Here's how to do that:
1. On mobile, from the 'Home' tab, tap the big red plus button, and tap 'Project' which is second from the bottom.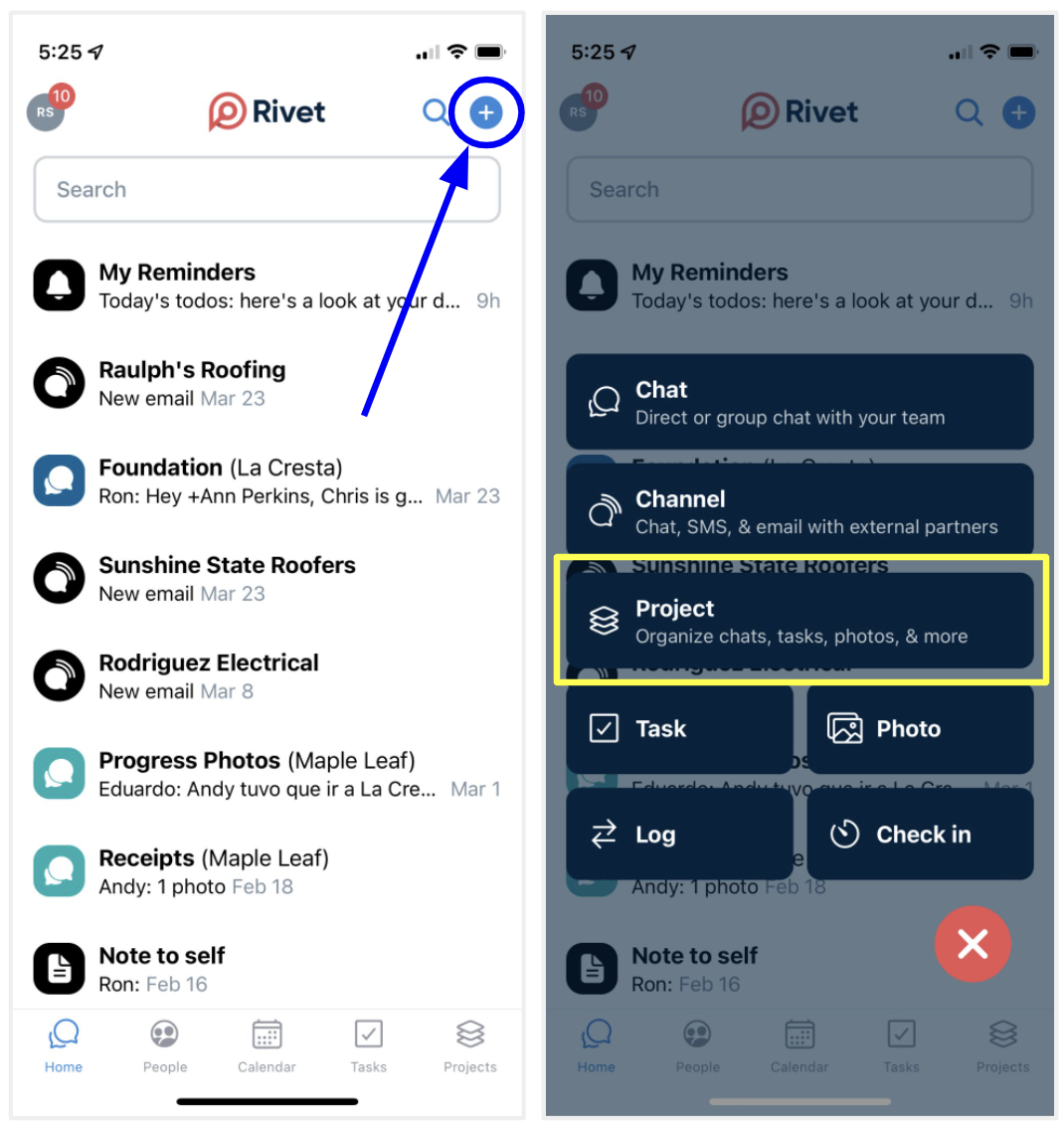 On desktop (www.web.joinrivet.com), in the 'Projects' section in the blue menu, at the top of the list of your projects, click the '+ Add project' text highlighted below.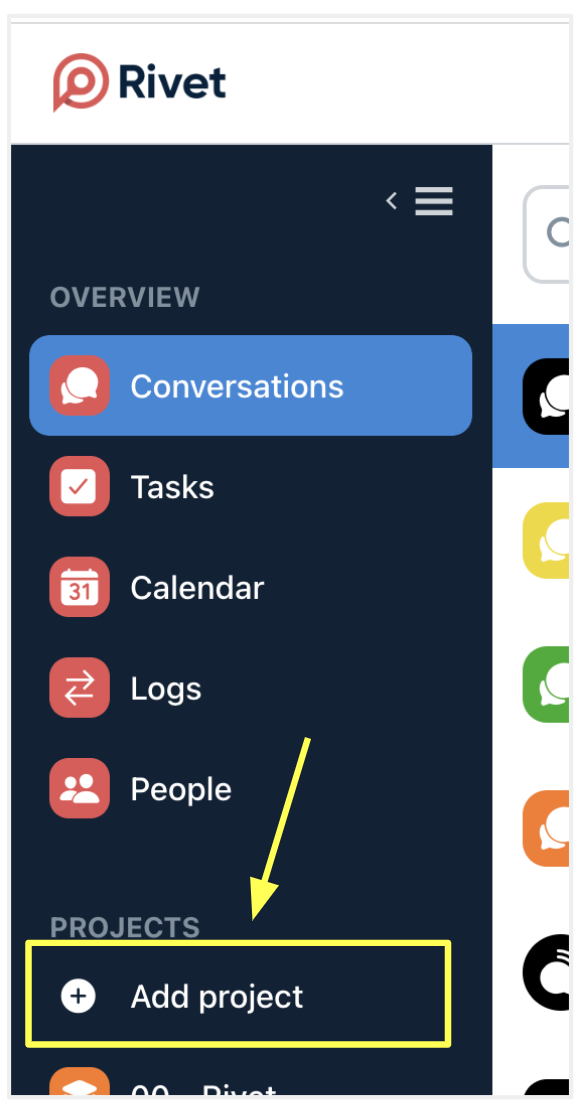 2. Next, add a name for your project. We recommend something that your team will be able to easily recognize.
On this step, you can also add your project's address. This step is optional, and can be added later if you don't know the address. Tap the blue 'Create' button in the bottom right hand corner.
If you're setting up a project for your "digital" office, here are some example names other contractors have used - MT Contractors HQ / MT Contractors Office / MT Shop Talk / MT Contractors Team Hub.
3. Next, add the people who will be part of this project. Everyone who is added to the project will automatically be added to your project's team chat, and will be able to view the project calendar, info section, and any photos, files, and logs that are added directly to the project.
In this step, you will notice that any company admins have been auto-added to the project. Here is an article on how to make company members admins.
Select the people you'd like to add, and tap the the blue button in the bottom right hand corner that says 'Add people' and that's it!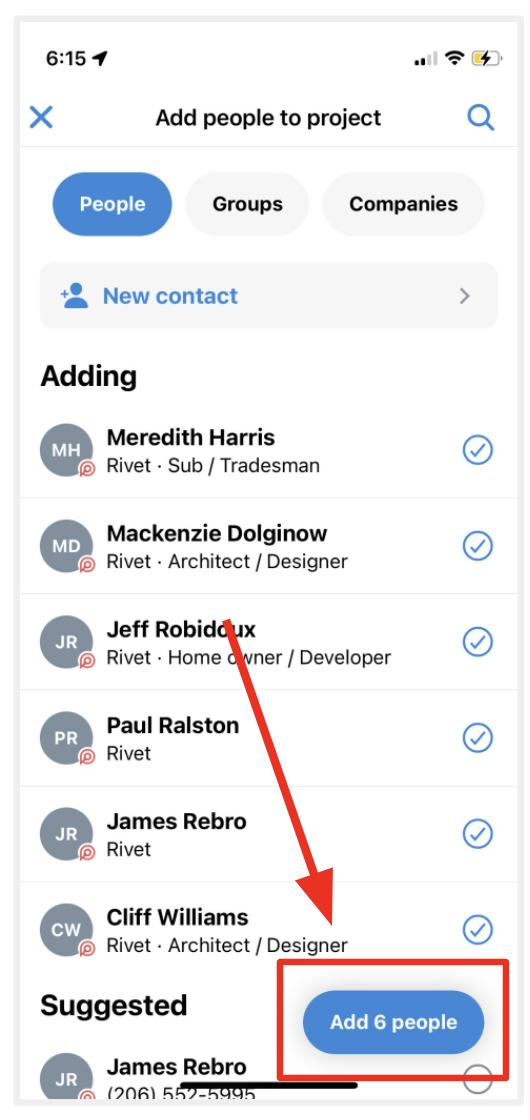 NOTE: to limit what project members can see, set up additional chats with only the people you'd like to see that content. Any photos, files, links, and messages added to these chats will not be visible to project members who are not in the respective chats.
Once you've set up your first project, you'll see that we auto-create a 'Team' chat with all the project members.
To add additional chats in order to control who can see what, and better organize your project record:
1. Tap the blue '+' to the right of the 'Chat' header.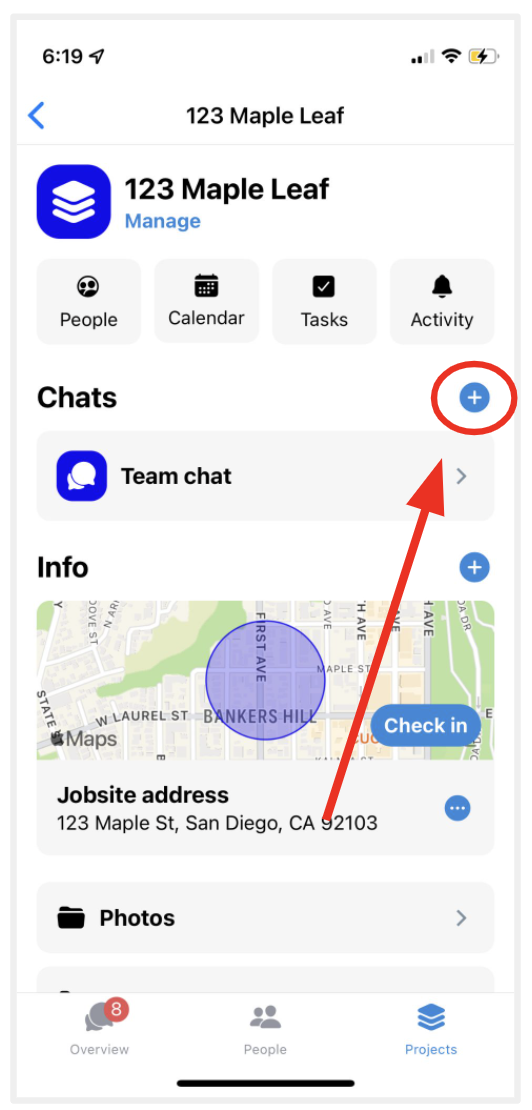 2. Next, name your chat like you'd name a folder to help specify the type of content you want people (or you) to put there. In this example, I'll name it Invoices. After typing the name, tap the blue 'Next' button in the bottom right hand corner.
3. Select the people you want to be able to see or add to this chat (or folder). If you don't want to add anyone other than yourself, tap 'Skip' in the top right hand corner.
4. That's it! Your new chat will appear within your project under the 'Chats' section.
Questions or want more help? Reach out anytime: help@joinrivet.com.