How do I create a project hub?
Creating a project hub takes less than 60-seconds. Here is a help article that goes over how to create a hub from scratch. You can also duplicate an existing hub's structure (chats, people or members, tasks, events, or info fields). Here's how:
1. Tap on the Hub you'd like to duplicate
2. Tap the blue 'Manage' link below the Hub's name
3. Tap the grey 'Duplicate' button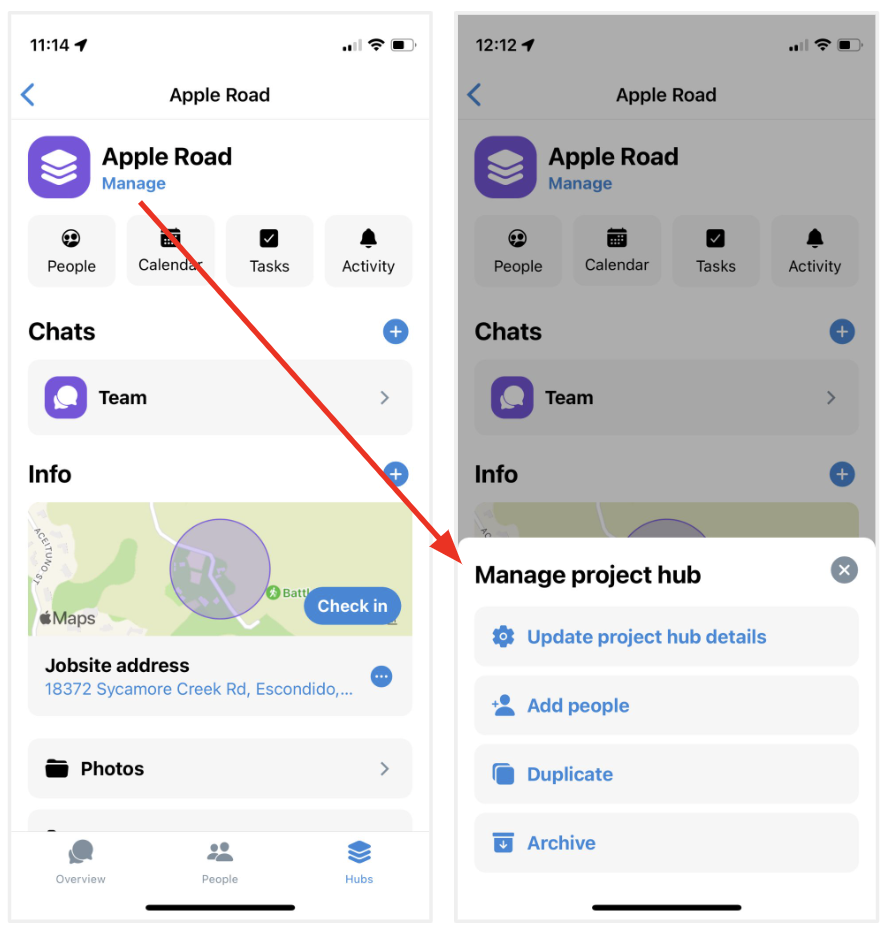 Who can see what in a hub?
Anyone who is added to the 'People' section of the hub will be able to see the project calendar, tasks, and activity feed (which shows activity across your project folders when something is added directly to a folder). This means people will not need to be on the event or task to see them!
If you'd like to limit visibility, you can use hub chats to limit what people can and cannot see in your project hub folders (photos / files / logs).
Here's a quick example:
If you have three project hub chat titled:
1. "Homeowners" and it is just the homeowners and you
2. "Progress Photos" and it's your field team, you, and your super
3. "Sub Invoices" and it's you, your office manager, and accountant.
For you, because you are in all three project hub chats, in the hub's photos folder, any photos shared across any of those chats will be rolled up and visible to you. However, when the accountant goes to the project hub's photo folder, they will only see the photos shared in that chat they are part of. Same with the owner, and your field team.
So, if your field team hits a pipe on site, and shares a photo in the Progress photos chat, the homeowner will not see it unless you choose to forward it over!
Is there a limit on how many project hubs I can have with the free plan?
No! You do not have any project hub limits, nor are there storage limits. We ask that you reach out and share feedback when something goes wrong, something is confusing, or you'd like a new feature!
Call or text us here anytime: (510) 281-8840
Why can't I add info fields to the hub's info section?
Only project admins can add fields to the hub's info section. To see who is a hub admin:
1. In the project hub, tap the 'People' button at the top.
2. In the People section, where the project members are listed, you'll see the word 'Admin' under the members who are admins.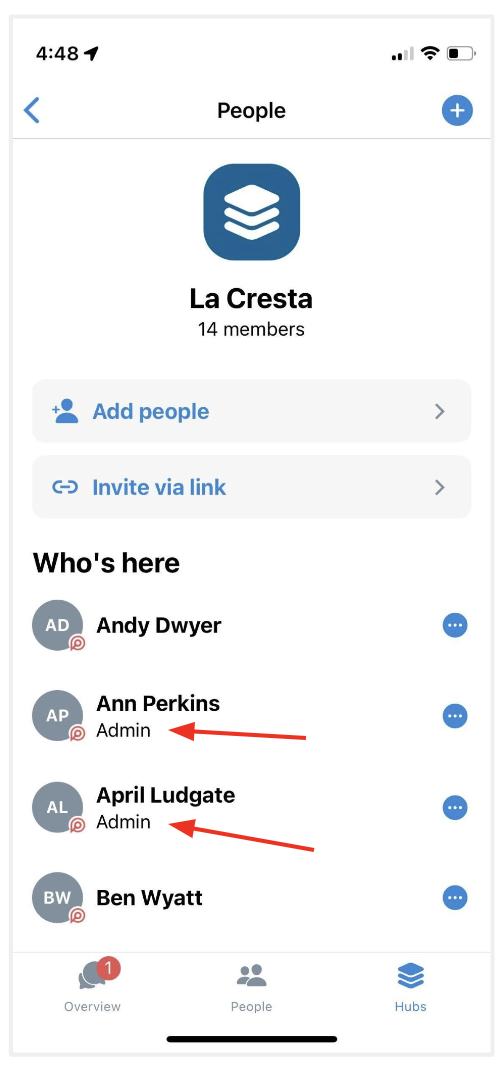 3. Reach out to any of these people to become an admin.
All company admins will be automatically added when a project hub is created by anyone at the company. If they are not, it is because the person creating the hub explicitly removed them when creating that hub.
Questions or requests? Reach out to us:
email: help@joinrivet.com
call/text: (510) 281-8840