Once the app is installed and configured properly, this feature is very easy to use: workers don't need to do anything but show up and the app will keep a log of when they showed up and left.
Here's how it works:
We understand that privacy is important, which is why the app only tracks members when they are at or close to a jobsite. And we know it can be hard to remember to "check in", so when the app detects that it is near the project address, it automatically checks individuals in. When they leave, it checks them out. When they are not in or around a specified jobsite address, we do not record their location.
To use this feature, folks in the field need to install the app, and set their app permissions to 'Always Allow' as the phone is looking for the perimeter surrounding the address.
In order to use this feature, the first thing you'll need to do is invite project participants to the app. If participants, like subcontractors, will have a crew come to the site to work, they will need to add their crew.
Here's how to invite someone to a project:
On mobile, in the blue side navigation bar accessible under the three horizontal lines in the top left hand corner, find the relevant project and tap it
In the top horizontal scrolling menu, swipe left until you get to the tab named 'Members'. Tap it
Tap 'Add members' and select the individuals you'd like to add to the group.
NOTE: If they are not on Rivet yet, you'll be inviting them which means they won't see messages or show up in the 'who's onsite' feature until after they've download the app and created an account.
Your invite will be sent via SMS and will contain a link to join the project. After the individual creates their account, they will be prompted to let Rivet access their location. As long as they enable, and set this to 'Always Allow', that's all they'll need to do!
There are two ways someone can set their app permissions:
If they're already a member of Rivet, in their phone's settings, they can find the app and set location permissions there.
If they haven't created an account yet, they will be asked to enable location settings as they sign up so don't forget to let them know to set their permissions to 'Always Allow'.
NOTE: for iPhone users, when they first install, the option they'll need to select will be 'While using the app', then a day or two later, Apple will ask if they want to switch to 'Always'. When they are asked, they should switch to 'Always'.
If the individual already has the app, for iPhone users, here's where to find location permissions in settings:
Find and tap your settings app.
Find Rivet in your list of apps, and tap it.
Tap 'Location', and select 'Always'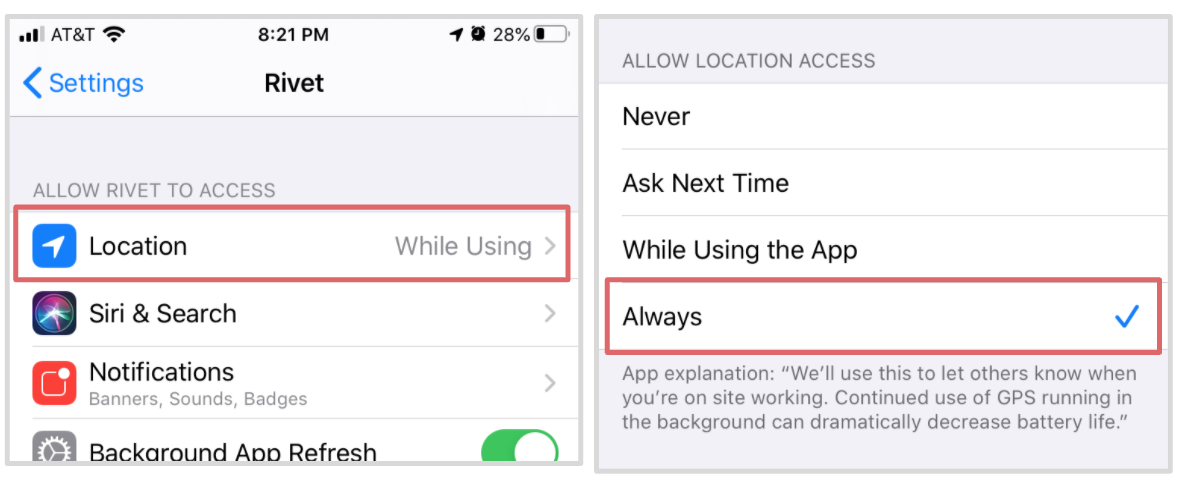 For Android users, here's where to find location permissions in settings:
Go to Rivet's App Settings
Tap permissions
Tap location
Tap 'Allow all the time'