You can make a list of tasks to further categorize the things you need to do or have others get done.
There are three ways you can create a list of tasks:
From within a chat: in the chat input bar, at the bottom of the screen, you can tap the icon that looks like a check box in a circle, or, once you start typing, tap 'Create as task'.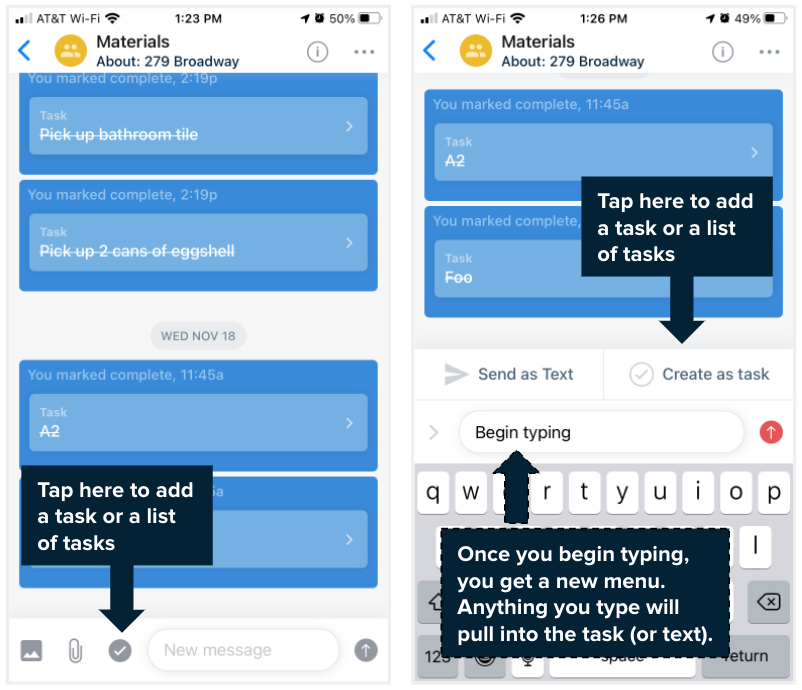 From a project: select the project to which you'd like to add a task list. Tap the '+' icon in the top right hand corner. Tap 'Create task' to create a task list or single task.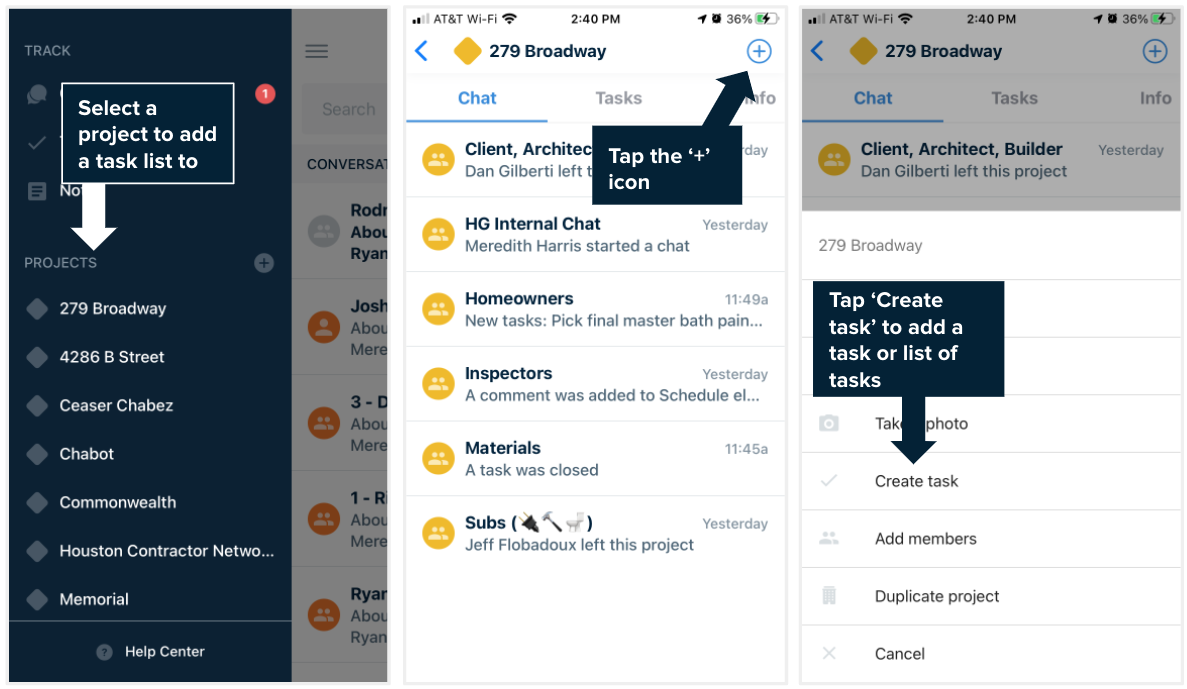 From the task section: in the side menu, tap the 'Tasks' section. Tap the '+' icon in the top right hand corner.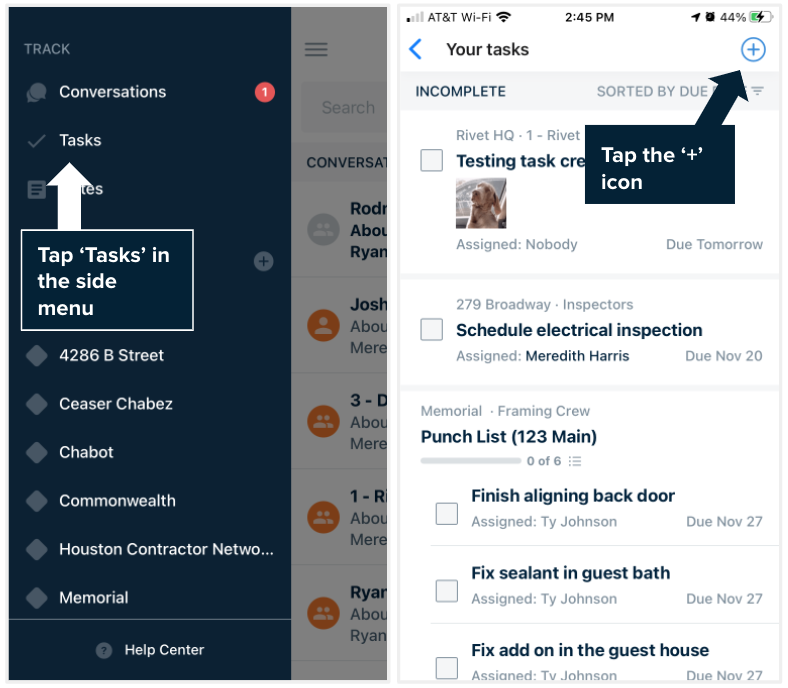 In this example, we'll add a task list from the 'Tasks' section. Here's how:
1. Creating a task.
a. In the modal that pops up, first add the details of the task. Tapping the photo icons will let you take a photo or upload a photo from your phone's library.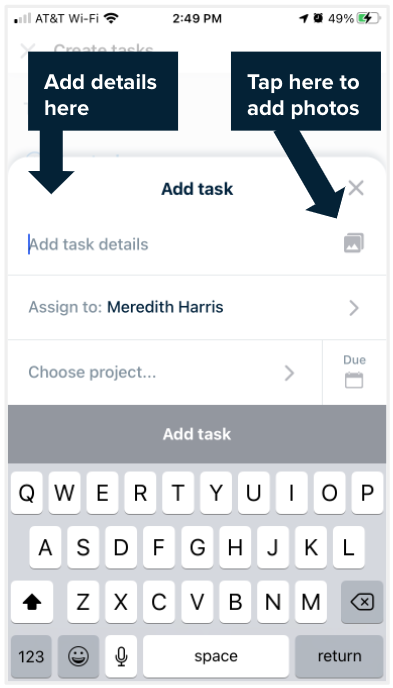 b. As the task creator, you will automatically be assigned. You can easily change this by tapping into the bar labeled 'Assign to'. This will bring up your phone's contacts. Select people you'd like to assign.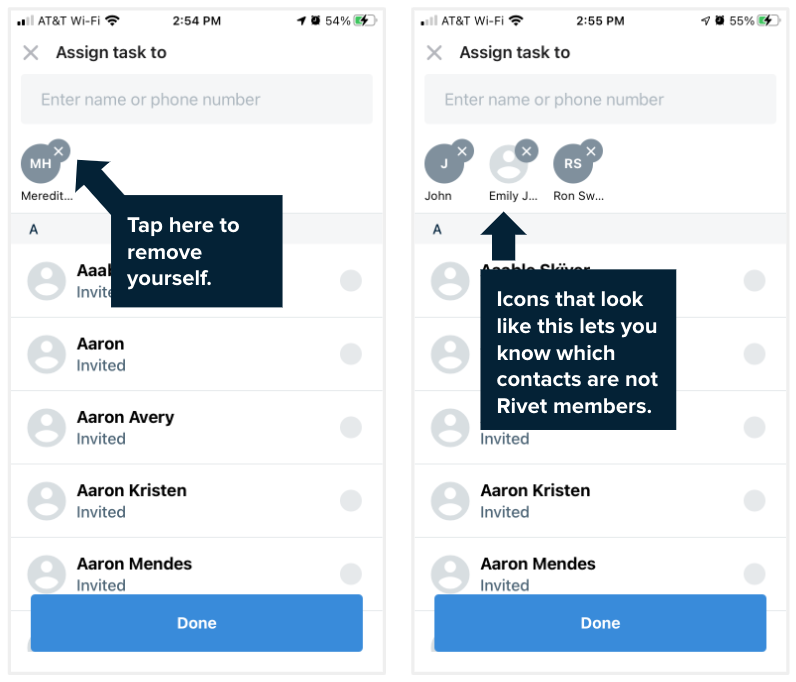 c. Next, select the project and sub-chat that you'd like the task list to be associated with. For example, if I'm making a punch list for the electrician on a custom build project at 279 Broadway, I'll select the '279 project', and the 'Subs' chat (pictured below).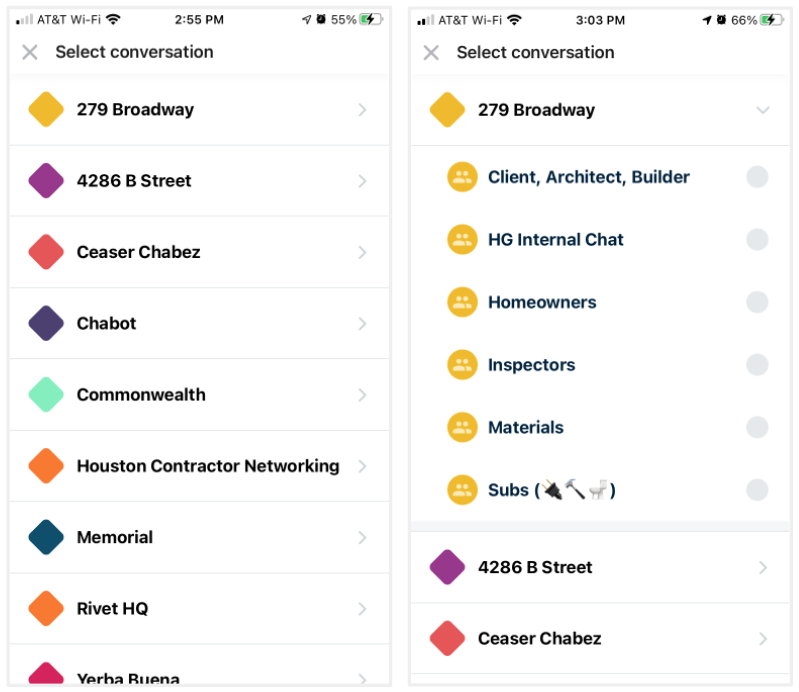 d. In the bottom right hand corner, tap the calendar to add a due date for the task if you'd like. This is optional.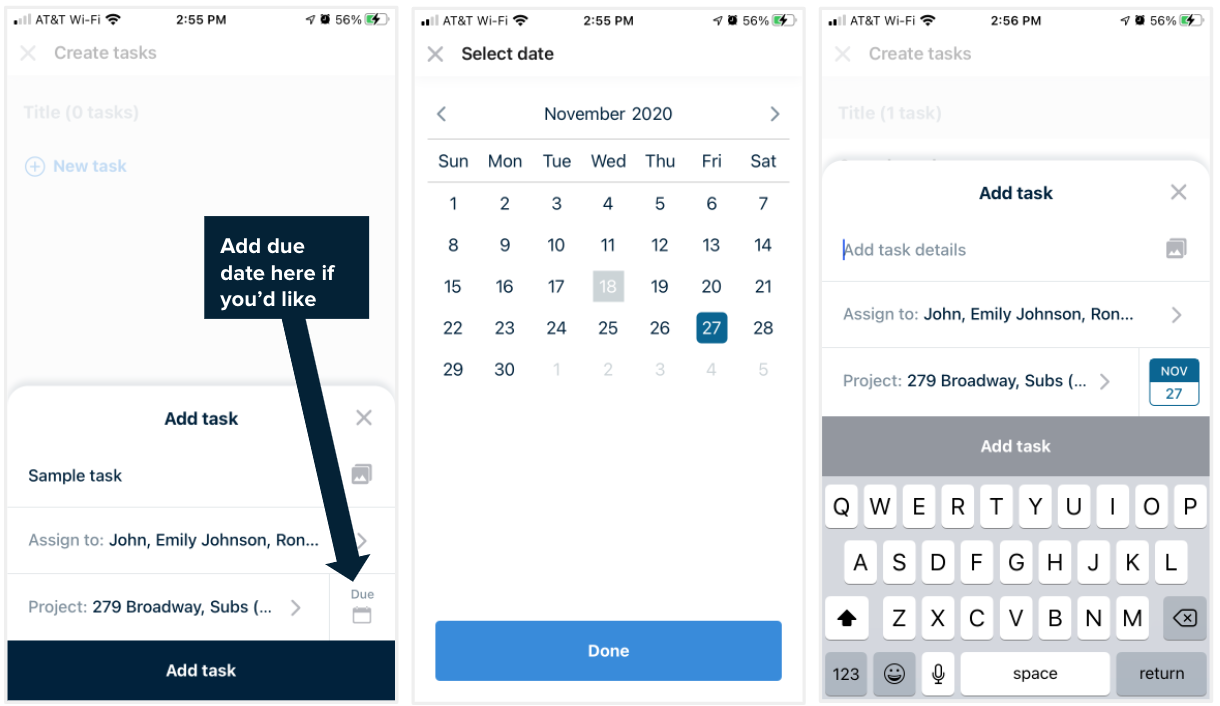 e. Tap 'Add task' once you're done adding details. If you only wanted to create one task, tap 'Next'. But to make a list, tap the blue text, '+New task', directly below the task you just created to create your next task.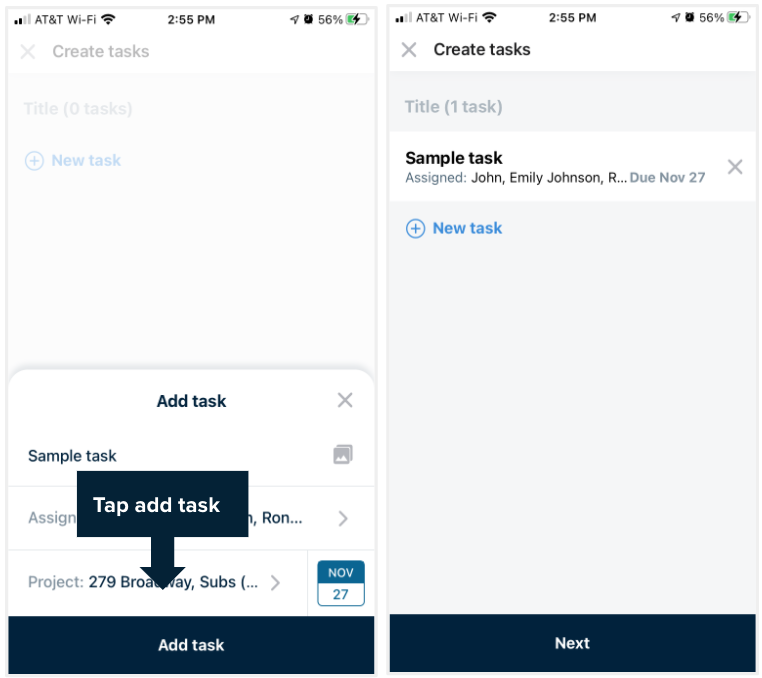 f. Upon adding your second task, we'll pull in the assignees, project and subchat, and due date from your previous task to make creation faster, so all you need to add is a description and any relevant photos. To change a field, simply tap it, and change your selection. You can add as many tasks to your list as you'd like.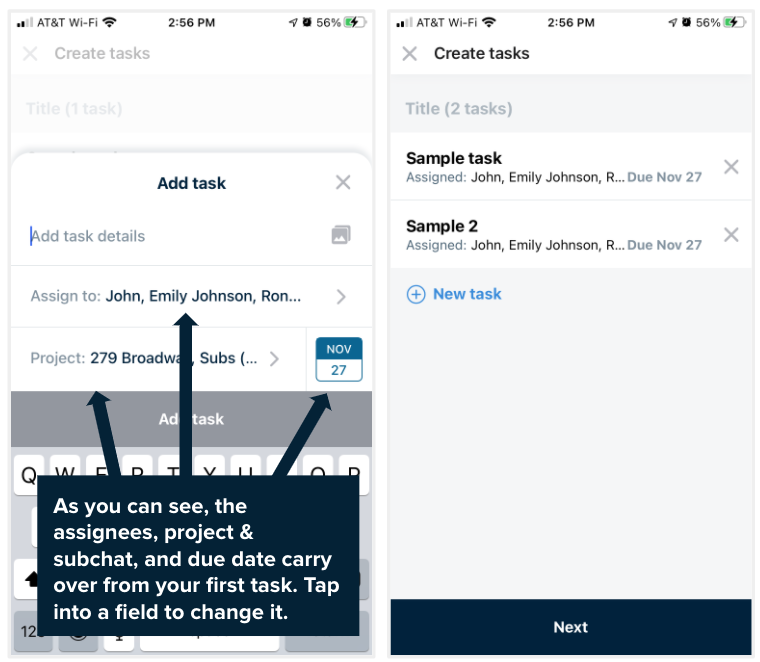 g. If you'd like to add a title to your list of tasks, tap the text that reads 'Title' at the top of your list of tasks. Tap 'done' on your keyboard once you've updated the title. Tap 'Next'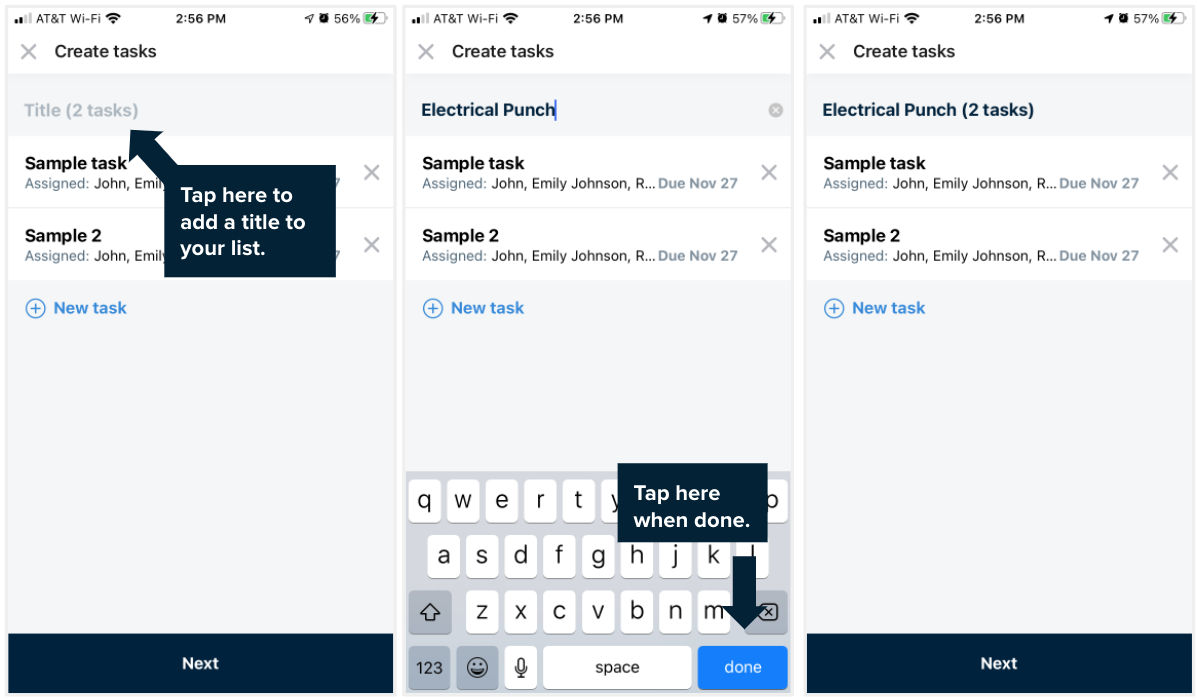 h. On the final screen, you'll be able to select how you'd like to share your task list with the assignees. For people who are not using Rivet, you must select either email or SMS. For Rivet members, if you don't enable email or SMS they will be notified via push notification if they've enabled it. Tap ' Complete' to send your list of tasks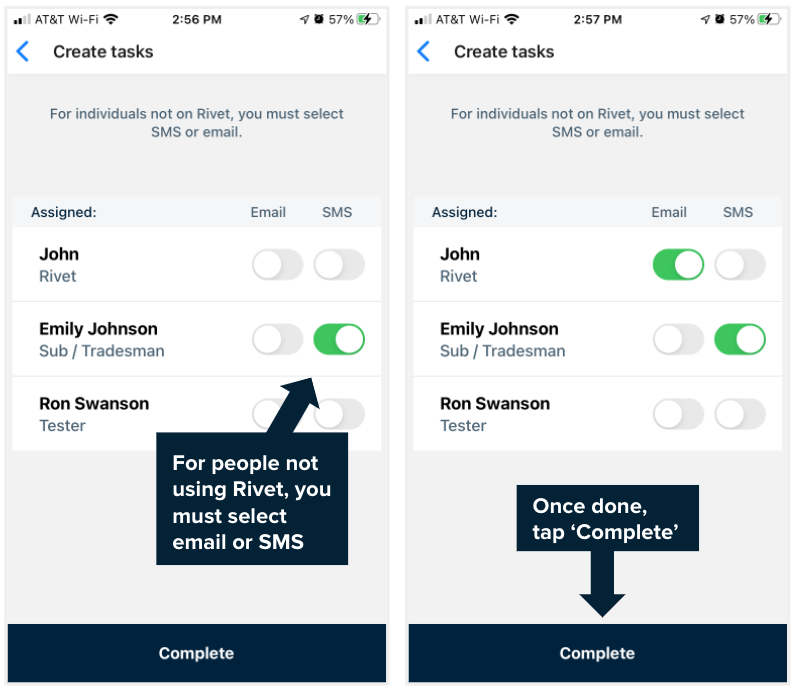 Once you've created your tasks, you should see them in your list of tasks. You should also see them in the project, tasks section, and in the sub-chat you posted them to.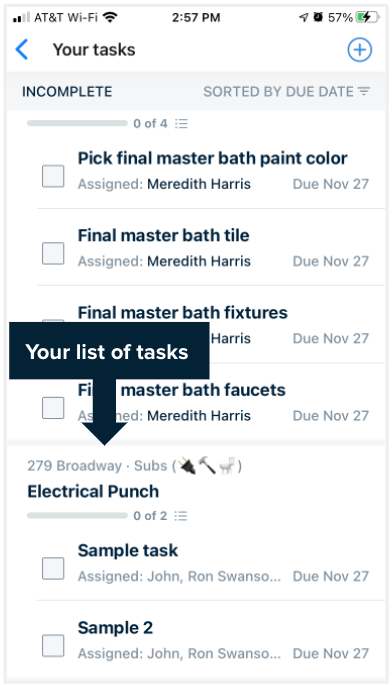 Still have questions? Reach out to us: help@joinrivet.com