Rivet is an app that lets you chat with people on the app or off of the app. In order to do this, Rivet has two types of conversations:
1. A chat - with this type of conversation, you can only communicate with other people who are on the app (just like WhatsApp or Telegram).
Chats can also be associated with a project, so that photos, files, and tasks shared in those chats roll up into project folders automatically. Below are screenshots of these types of conversations.
Here is an example of two chats associated with a project: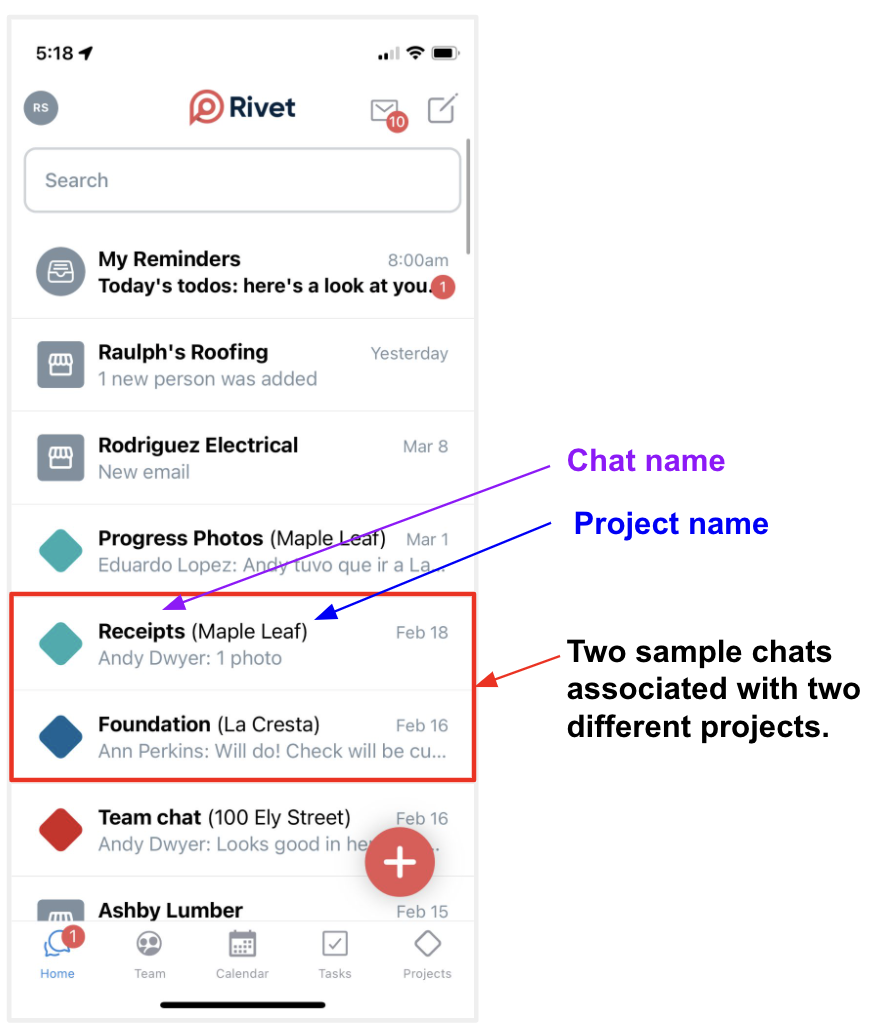 Here is an example of two chats that are not associated with a project:
2. A channel - this type of conversation allows you to communicate with people who are on or off of the app through text message or email.
In order to use a channel, you must set up your company and 'claim' a number. This will give you a local business number that you and others at your company can use to send and receive text messages, or receive transcribed voicemails.
Channels are meant for connecting with other businesses and customers who you'd normally text.
The benefit of a channel is that the business or customer on the other end can still reach out to one "point of contact", but you can add more members of your team to the channel so that people can stay in the loop and waste less time passing on information. It is also handy for faster responses.
How to create a chat or a channel:
On your mobile device, to create a chat or channel, from the 'Home' screen, tap the big red plus button and tap 'Conversations' at the bottom of the list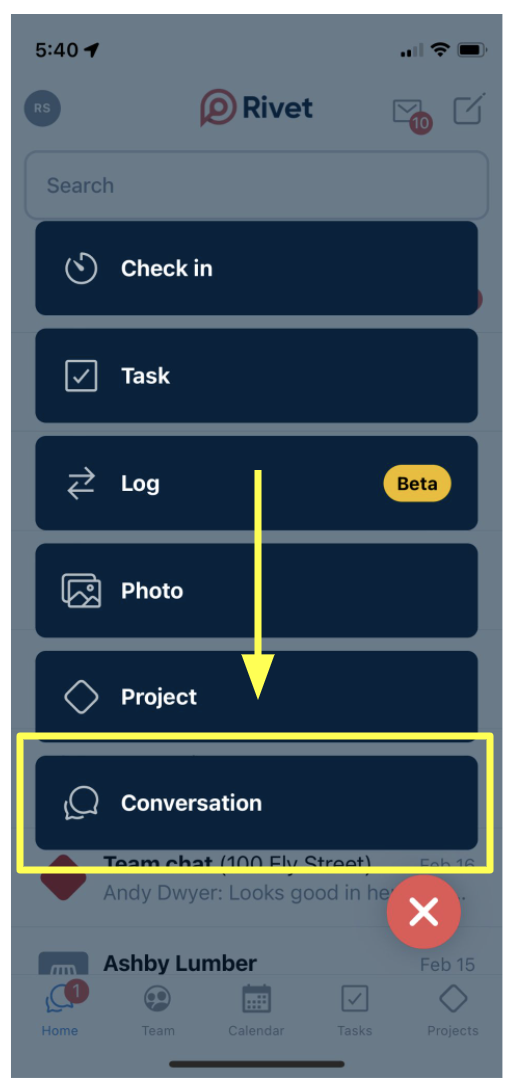 This will bring up your contacts.
To create a chat, simply add the people you'd like in the chat, and tap the 'Create' button.
This will send an invite to the person that you've added to the chat, and once they join, they'll see your messages and be able to respond.
You can also create a chat from any project. This will automatically associate it with the project you create it from. To do that, tap the 'Project' section in the bottom navigation, tap a project, tap 'Chats', and then create a chat.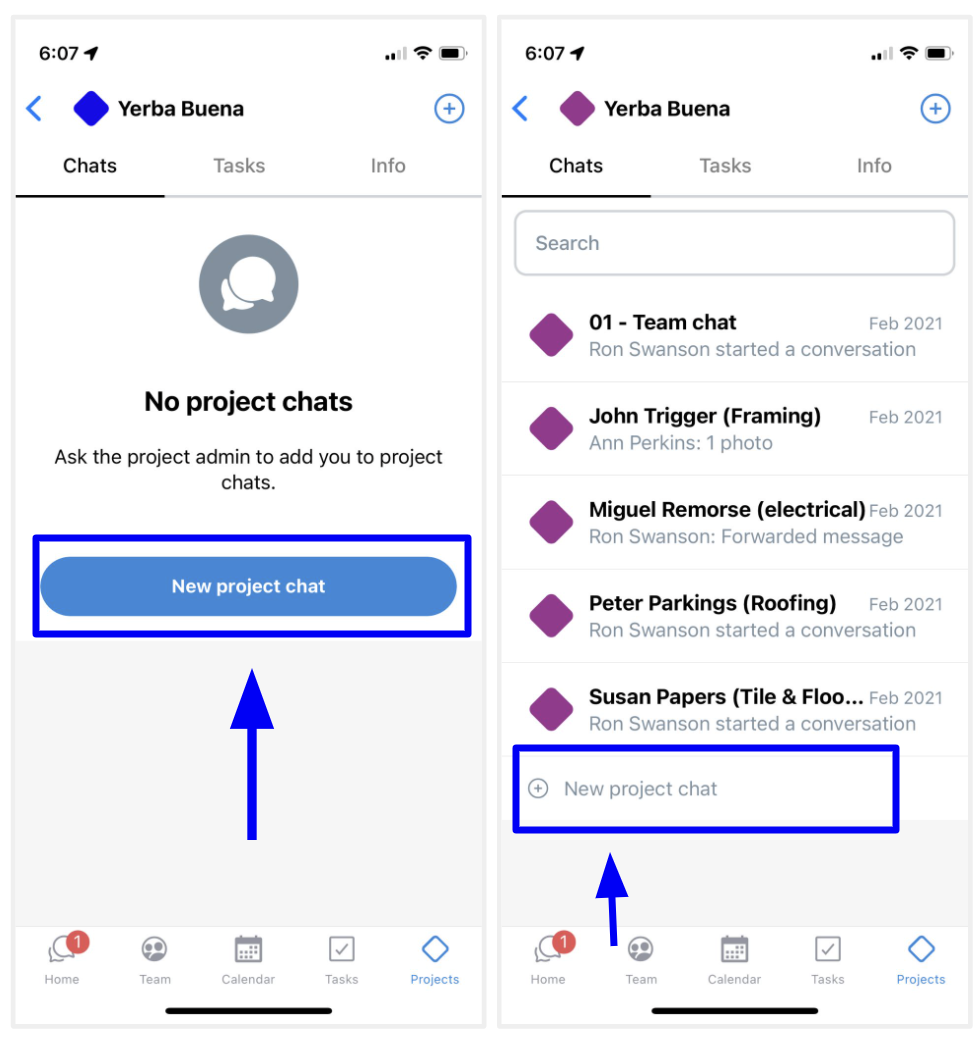 To create a channel, after tapping the red plus button on the home screen, tap the grey button at the top of the contacts screen that says 'New partner channel'.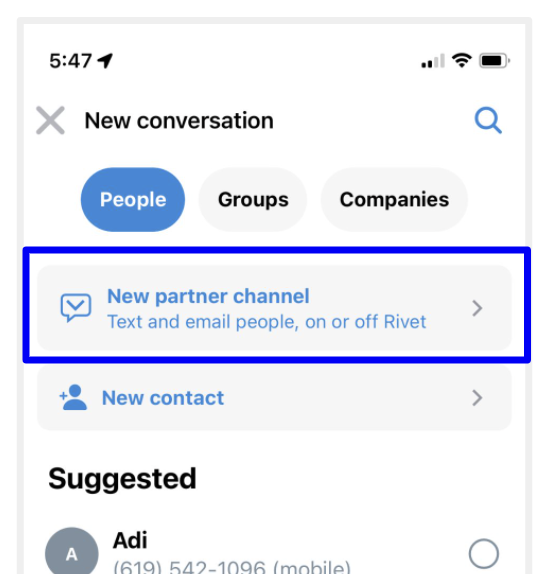 Next, choose a channel type (aka - what type of party you'll be communicating with).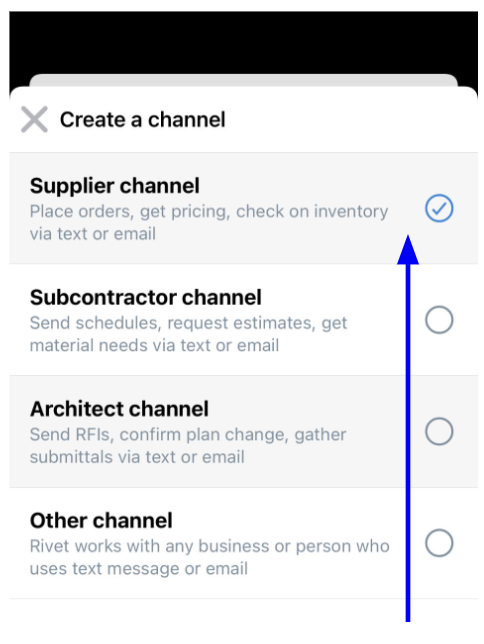 If you select a business, next add the name of the business. If you're creating a channel to communicate with an individual, or group of individuals, we recommend you name the channel something everyone can recognize.
Next, add the people that you want to text or email from within Rivet *and* any relevant team members who are on the Rivet app so they can see, respond to, and take action on messages that come through.
Next hit 'Create'.
You're all set!
Any message you send from this channel will be delivered to the non-Rivet app users via text message. They can respond in text, and their responses are pulled in. Anyone in the channel from your team can reply, and that reply will show up in their text thread. It will all look like it is coming from one person.
If you'd like to send an email, tap the red email icon in the lower right hand corner of the channel.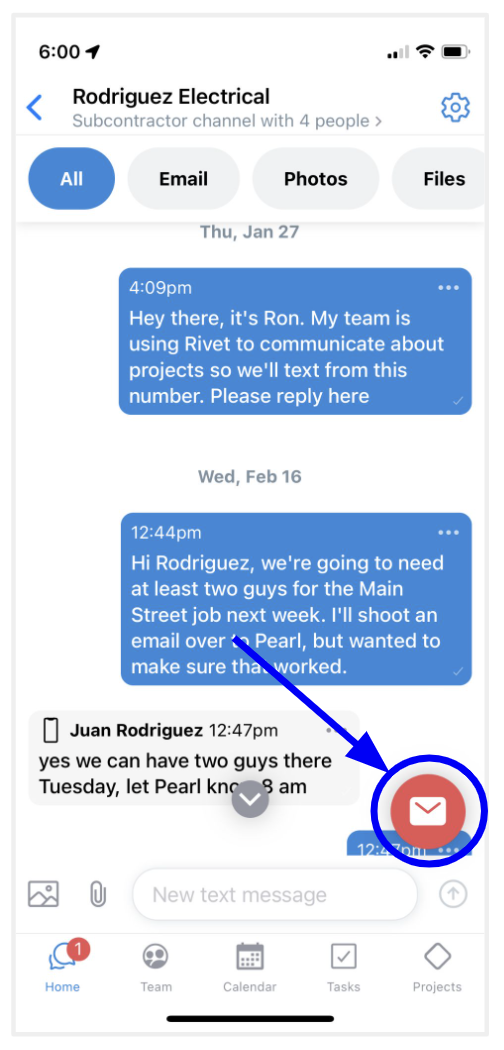 If you've added emails for the contacts selected, the email addresses will automatically populate. If you have not, you can add them the first time you go to send an email. You can also CC your email if you want a copy of it in your inbox.
Email threads will look like mini-chats within the channel.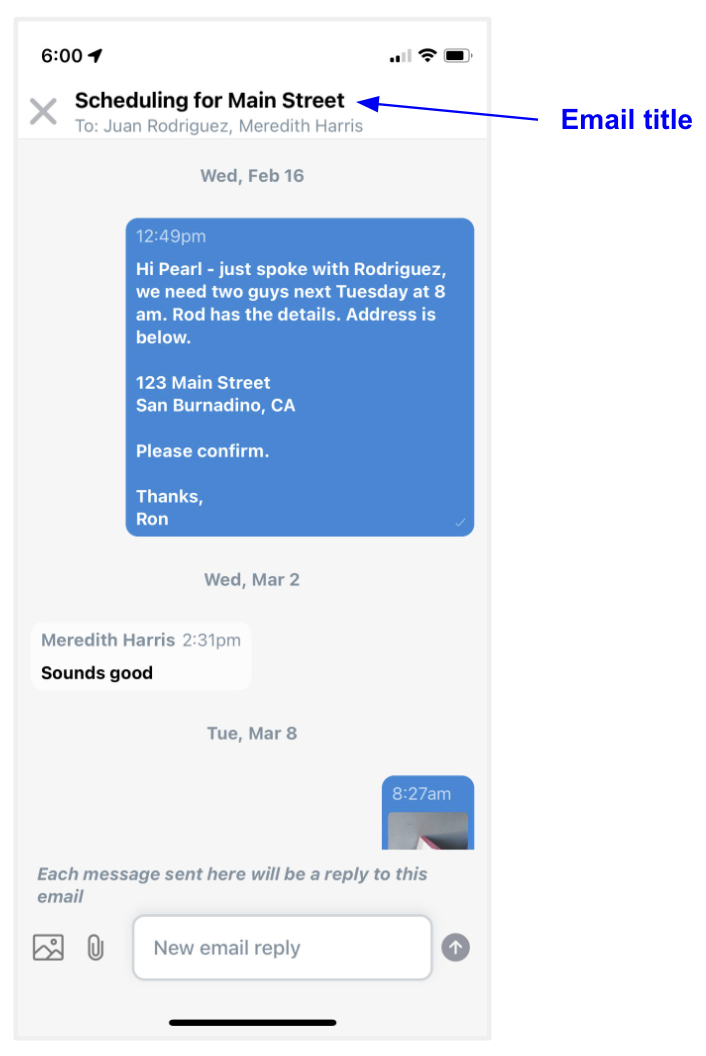 If you have any questions, or want a virtual tutorial, please reach out to us anytime: help@joinrivet.com