Builders and tradesman across the US use Rivet to coordinate and communicate with their team and project members on a daily basis. Because communication is so central to a successful outcome, Rivet is completely free for you, and anyone you invite.
There are two ways to invite people to Rivet:
INVITING PEOPLE TO A CHAT
When you set up a project on Rivet, we'll automatically create a chat for you called 'Team chat'. If you invited anyone while creating that project, they will be added to that chat.
For that team chat, and any other chat you've already created, to add someone:
1) Tap into the chat that you'd like to invite people to.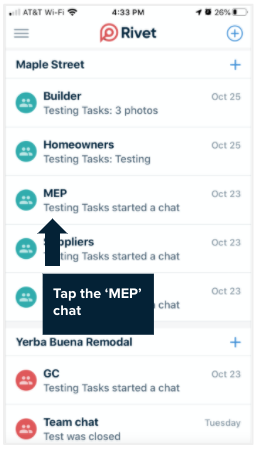 2) In the top, right hand corner, tap the three dot menu.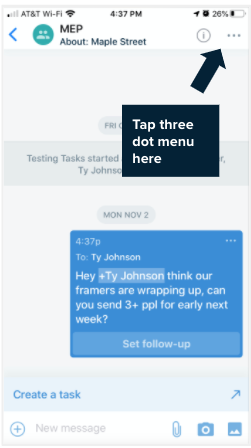 TIP: anywhere you see a three dot menu, there's a menu with features & tools.
3) In the menu that pops up at the bottom on the screen, tap 'Add members'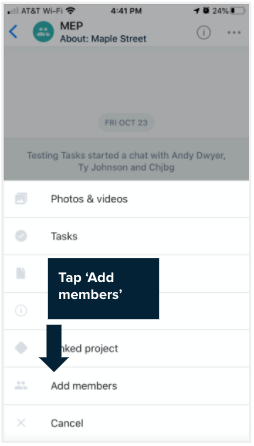 4) Here you'll see a list of your contacts (if you do not, you may need to enable these permissions). You can search in the top search bar, or scroll to find the people you'd like to invite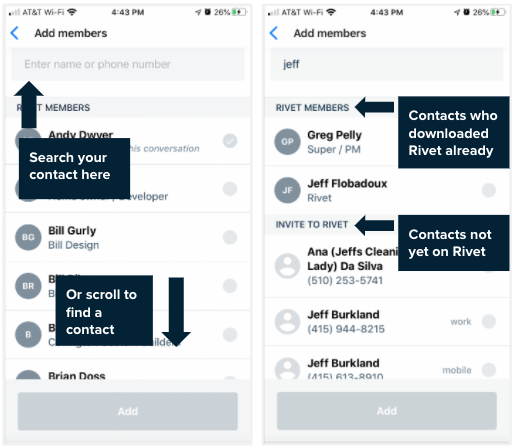 NOTE: as you can see on the screen on the right, as you search, you'll see two sections, 'Rivet members' and 'Invite to Rivet'. You can invite individuals from either section.
5) Once you've added all the individuals you want to invite, tap 'Add members'. You're all set!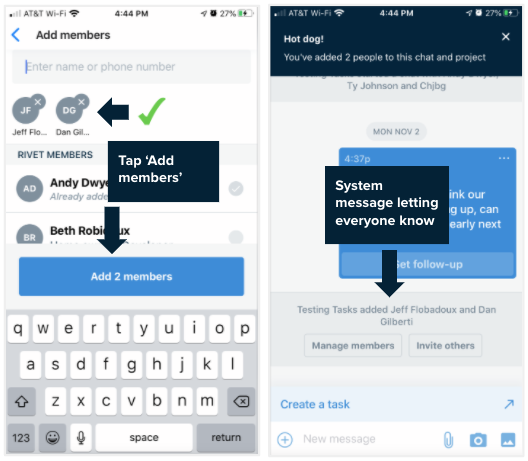 IMPORTANT: For anyone you invite who has not yet downloaded the app, until they download the app, they will only see messages you send via SMS.
Here's a help article
on how to do that.
INVITING PEOPLE TO A COMPANY
You can set up or join your company on Rivet to have a page where others can find you and your business. Here's how:
1) Tap the more menu in the top right hand corner (pictured below)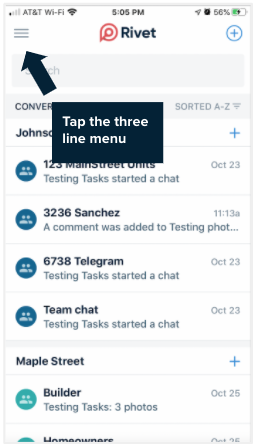 2) Once the side menu is expanded, tap your profile at the top of the page.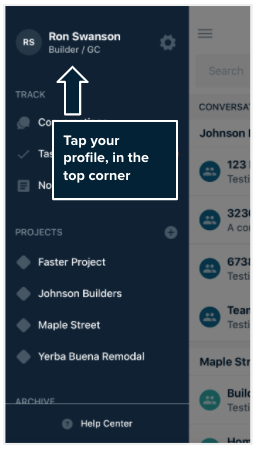 3) Once on your profile page, tap 'Add company' at the bottom of the sceen.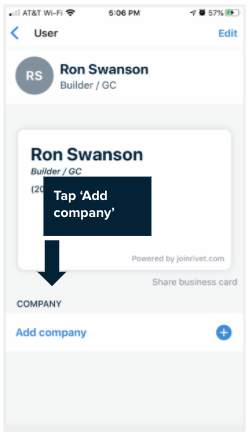 4) In the 'Company Name' search box, type in the name of your company in case someone else has already added it.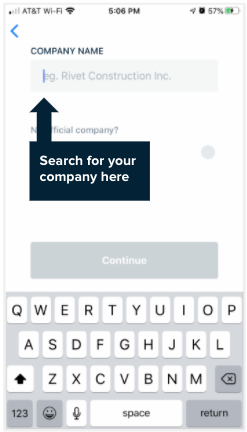 5) If you see your company, tap the blue 'Join' button. If you don't see your company, tap the 'Add your company' button to get it set up.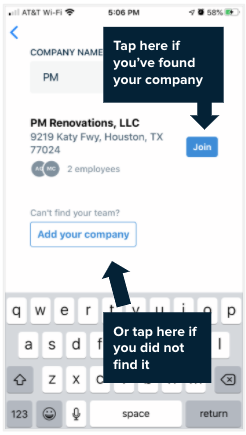 NOTE: if you joined your company, you're done! If you need to set up your company, read on :)
6) Add your company name and address on the next screen. If you are not the owner that is ok! You can set up your company page for your team. Once you're done, tap 'Continue'.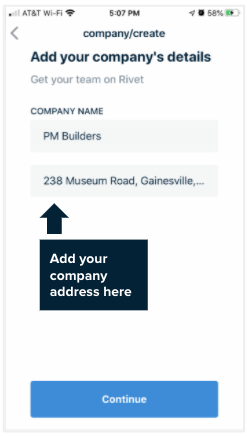 7) On the next step, if you are the business owner, tap 'Yes, I'm the owner'. If you are not, tap 'No, I'm not the owner'.
8) Next, invite your team! First, you'll need to allow Rivet to access your contacts if you have not already. Tap 'Use Contacts' and when your phone asks if you'd like to grant permissions, tap 'Allow.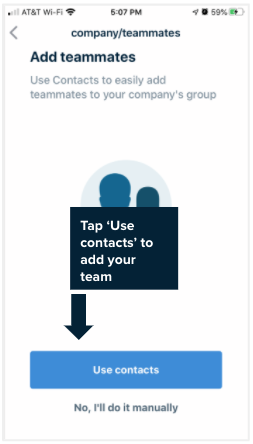 9) Once you've allowed access to your contacts, you should be able to search for team mates you'd like to add. Tap each person you'd like to add. You can add as many people as you like at this step. Once you're done, tap the blue 'Invite' button.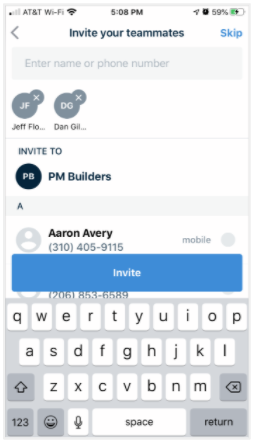 That's it!
More questions? Reach out to us: help@joinrivet.com