When you join Rivet and set up your company (or someone on your team sets up your company) we automatically create and add everyone from your company to a Company hub. You and your team can use this space as a central location to talk about things, get back to information quickly, and manage internal tasks & events.
Like project hubs, your company hub has all the same features:
• An info section on which you can pin important information that anyone at your company may need to reference. Companies using Rivet today pin things like links to payroll software, safety training, equipment or tool management spreadsheets, and more.
• A people section where you can add new team members to the company, control company permissions (which impact all project hub permissions & channels), and remove team members.
• Calendar & task sections where you can see and manage all company related events and tasks. Teams using Rivet will use this for managing vacation calendars, safety & training tasks, and more.
• An activity center where we publish notifications about people adding files, photos, or logs to your company's hub folders.
• The chats section with one chat automatically created (Team - where you can talk about general team things), and 3-other easy-add chats we most commonly see (Management - for your management team to coordinate | Safety & Training - for you to share, communicate, and document state required safety materials).
• The record section where you'll find a 'Photos', 'Files', and 'Logs' folder where you see all photos/files/logs added directly to those folders AND any photos/files/logs shared in the company chats that you are a member of.
NOTE: people who are at the company, but not part of a particular chat, like the management chat, will not see those photos/files/logs in the folder section.
Here is an example of a filled out company hub: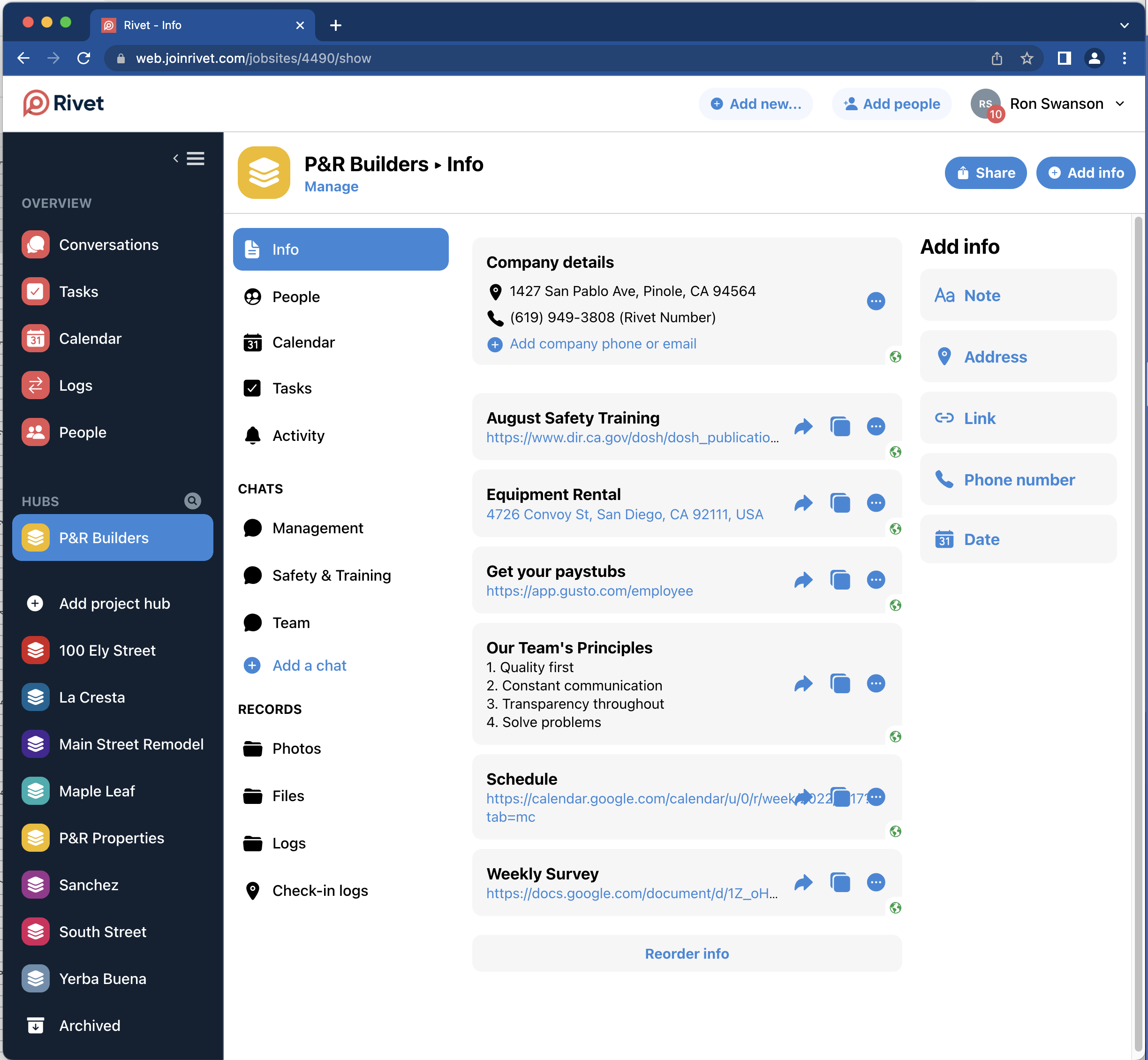 Like other hubs on Rivet, this can be shared with anyone whether they use the app or not by tapping the blue 'Share' button in the top right hand corner.
Questions or requests? Reach out to us:
email: help@joinrivet.com
call/text: (510) 281-8840